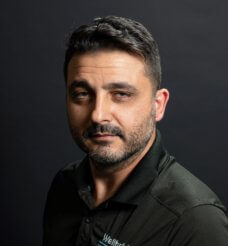 Dr. Vladimir Shursky, DPT,
Partner/Physical Therapist
Dr. Shursky graduated from Northeastern University in 1998 with a B.S. in business administration. He received a Doctorate in Physical Therapy (DPT) from Simmons College in Boston in 2009. Dr. Shursky is a well-respected practitioner in the Greater Boston and Southern New Hampshire areas, known for his success in treating patients of a variety of age and fitness levels with diagnoses including but not limited to post-surgical, neuromuscular and vestibular disorders. Dr. Shursky also specializes in treatment of TMJ Dysfunction. Dr. Shursky is an expert at advanced manual therapy and therapeutic exercise techniques, which he utilizes to maximize each of his patient's rehabilitation goals. Dr. Shursky is an avid sports fan, with a particular inclination toward soccer. When not in the clinic treating patients, he enjoys spending time with his large family.